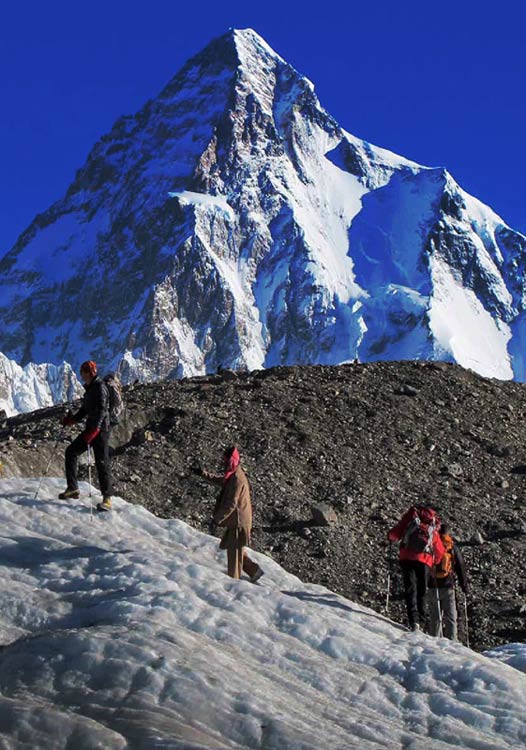 Nature has blessed Pakistan with unique landscape, the high mountains Plateau, plains, deserts and the luring sunny beaches are all found here. However more than fifty present of its area is mountainous particularly its Northern and north western regions which posses the most captivating mountains on the earth Magnificent wreckage of continents in collision ,Fifty million years ago ,an immense island collided with the mainland Asia to create the South Asian Sub continent and Push Himalayas Skyward.
The mighty ranges ,Karakoram ,The Himalayas and the Hindukush make a rendezvous here. Found in theses lofty ranges are the mountains of awesome heights, valleys of unsurpassable beauty dotted with serene lakes of crystal clear blue water, through which flow murmuring streams and springs, and thundering rivers above all the lion river-mighty Indus.
The best-known attraction for the Mountaineers is the North of Pakistan. Northern part is in knot of four great mountain ranges, Himalayas, Karakoram, Hindu-kush and Pamir, in area of about 500 km in width and 350 km in depth is found the most dense collection of some of the highest and perception peaks in the world Boasting more than 700 peaks above 6000 meters and more than 160 peaks above 7000 meters including the second highest peak, K-2.
Radiating out to the border if marked by the Ishkoman and Karumber River in Gilgit District, the eastern end of range known HINDU RAJ, means "Hindu Rule." Following north from there the Pamir runs up into the former Soviet Union. Spreading from center to northeast along the border with China lies the KARAKORAM, the main block of the mountain in Pakistan, 250 Kilometer wide. In the south corner separated by the Indus River, where lies the western Himalayan Range and Nanga Parbat 8125m is the western end pillar of this range. The most famous among these are K-2 (8611m), second only to the Everest, Nanga Parbat (8125m), the most dangerous peak and have the reputation of "KILLER MOUNTAIN" the Hidden peak (8068m), the Broad peak (8047m) and the Gasherbrum-11 (8035m) and highest cliff wall of the world, the "TRANGO TOWER GROUP". Gigantic mountain wealth makes Pakistan an significant country offering great prospect for the mountaineering and mountain allied adventure activities ,The area is appropriately called a paradise for mountaineers, adventure lovers and nature seekers ,The persuasive allure of these high, challenging, endless sea of rugged rocks and ice apex entice large numbers of climbers, adventure seekers and nature lovers from across the five continents.